Download and install the best mod for the best game World of Tanks — Tundra! ⏳ More visibility, more hits, more pleasure! Vegetation on the map gives not only the beauty of the game, but also helps players to hide equipment. Sometimes tanks become practically invisible to the enemy and it becomes more difficult to hit the target. Especially when reconnaissance tanks can't detect the enemy, and if they find it, the allies see only one silhouette, which means they can't get into the most vulnerable parts of the tank hull.
There is also such a situation when you use a heavy assault gun, and get yourself into the bushes, wanting to find a tank and destroy it, but the sniper mode in the sight close the branches of trees and other vegetation. To avoid this, use the best tundra mods for World Of Tanks. This mod allows you to remove all foreign objects during aiming, helping to make a shot exactly at the target. If you have developed the ability to "Disguise", you can hide from the enemy, while seeing him without foreign objects.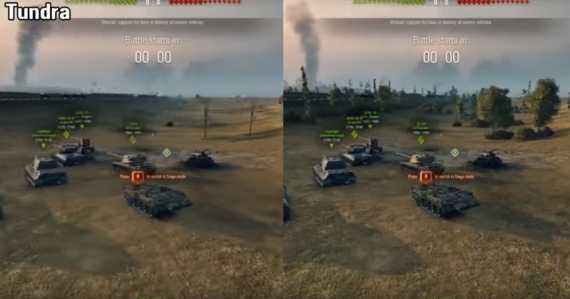 Convenient setting mod allows you to turn it on and off with one button right during the battle. You can also adjust the distance at which the vegetation will disappear.Start playing with the tundra mods and you will not be able to abandon it further. In addition, there are a number of additions, for example, Dr. Webber  Tundra or Easy Tundra.
Download the convenient and useful Tundra WoT now and appreciate the new advantages in battle.In addition to convenience, removing vegetation from the map, you reduce the load on the video card, which means you can put the display quality of other objects much higher. Thus, the quality of the textures of the equipment can be set to the maximum settings and target the enemy even more efficiently.
Constant tundra updates of the mod allow you to always be sure that it will not let you down. Download mod tundra with link on this page. Start playing your favorite game with new, increased comfort.
How to install Mod Tundra
Copy folder "mods" into folder World of Tanks (like c:GamesWorld_of_Tanksmods), replacing the existing files.
896-tundra.rar
[128.21 KB]
WotspeakTundra.zip
[350.63 KB]